Charles De Gaulle International Airport Paris (CDG)
Logistics of using Charles De Gaulle International Airport Paris For The First Time User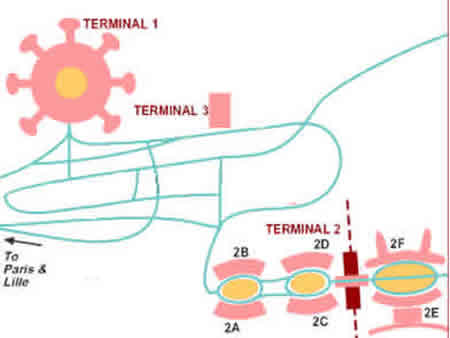 Charles De Gaulle International Airport (CDG) Terminal Map
Charles De Gaulle International Airport Paris is the main airport for Paris, situated about 25km (15 miles) north east of Paris itself. Charles De Gaulle is the second busiest airport in Europe after London's Heathrow Airport. Unlike London Heathrow, the airport was built in the jet age and has a master plan where there is plenty of space both now and in the future for expansion.
The terminals are well spread out and all very different. The largest terminal, Terminal 2 is very long and linear and can take 10 or 15 minutes to walk from end to end, its really several terminals seamlessly integrated and each section has an alphabetic label, like "2A, 2B". If you're using Terminal 2 you really need to know the full terminal ID or you chance having a very long walk.
Although Charles De Gaulle Airport is on a major motorway/freeway into Paris, a vehicle based transfer can be delayed through chronic traffic congestion, especially during the peak commute hours. The excellent RER train services into Paris are the most reliable and fastest way into the centre.
Airport Terminals
Terminal 1, the oldest terminal is round with futuristic walkways and escalators and is relatively small and easy to manage. It's used by non-French airlines.
Terminal 2, used by the airports biggest customer, Air France, is the largest, and is actually seven terminals: 2A, 2B, 2C, 2D, 2E, 2F and 2G. Its very long and linear, a free shuttle buse connects each mini-terminal with the others.
Terminal 3, is small and basic and used by low cost budget airlines and charters.
CDGVAL Free Inter Terminal Train
The RER rail link into Paris has two stations. The terminus is at Terminal 2 adjacent to the TGV station with intercity trains. The other RER station is at Roissypole, 5 minutes walk to Terminal 3.
A regular shuttle train called CDGVAL goes every few minutes between Terminal 1 and Roissypole and then onto Terminal 2, with a couple of other car park stops. The service runs 24x7, running every 5 minutes for most of the time.
Taxi ranks are immediately in front of the terminals.
Of the buses to Paris, Orly and Eurodisney only the Roissybus service to Central Paris and the Eurodisney bus picks up at Terminal 3.
CDG Terminal 2 Free Bus
The hotel shuttles are quite variable. They all pick up at Terminal 2, above the CDGVAL / rail station and Terminal 1. Most, but not all pick up at a bus station (not the local bus station) at Roissypole. All pick up at Terminal 1.
The main bus station for local buses, including the 350/351 service into Paris is at Roissypole.
There are free, frequent Teminal 2 buses that shuttle every few minutes between all the parts of Terminal 2, (though there are 3 routes numbered N1,N2,N3) so check you get the right one.
Otherwise its pretty much what you'd expect at any major international airport with usual wide choices of places to eat and drink, foreign exchange, duty free, books and magazines and such like. WiFi is all over but only free for 5 minutes on the airports own web site. You can buy WiFi access cards from the Relay shops.
There is a left luggage office, opposite the Sheraton Hotel in Terminal 2 above the main train station. Last advised as being open 06:00 to 21:30.
If you need things like prayer facilities, best ask at one of the information kiosks.
Paris Charles De Gaulle Airport Hotels
As you would expect there is a wide range of hotel options with all the major hotel chains represented. Your strategic decision is whether to pay a premium for an airport hotel you can walk to from one of the passenger terminals or use an off airport hotel.
Hotel Shuttle Bus To North Roissy Hotels
You may be pleasantly surprised that its not just very expensive hotels on airport, there is an Ibis hotel that is very economical, especially at the weekends.
The Sheraton is the money no object option in Terminal 2 with its main entrance as you come up from the train station into the terminal. The Ibis and Novotel hotels are above the platforms at Roissypole RER station, the RER station that serves Terminals 1 and 3. The luxury Pullman and Hilton hotels complete the line up.
Off airport hotels, provide you with savings normally but with the small inconvenience of requiring a hotel shuttle. The largest concentration of such hotels are on the other side of the motorway/freeway from the airport in the small town of Roissy.
Hotels here share shuttle buses, one covers the southern end of the hotel strip, the other the northern end. As these quite large hotels share a full size bus the frequencies of the shuttles here are better than other hotels not in Roissy.
There is another cluster of hotels conveniently situated by the RER station Parc des Expositions, just one stop on the RER train from CDG. The RER trains are much more frequent and reliable than the hotel shuttle buses.
More details of Paris Charles De Gaulle Airport Hotels
Getting To & From Central Paris From Charles De Gaulle Airport
Public Transport Destinations In Central Paris From CDG
There is a wide range of options to get you from CDG airport to the city centre of Paris. The schematic right shows where the main bus and train public transport options stop and terminate in Paris.
There are of course taxi and private hire car services available and some shuttle style van services.
During the working week around peak commuter hours the main road between Paris and Charles De Gaulle Airport routinely suffer from heavy road congestion.
The RER railway link comes into its own at these times offering a reliable and relatively speedy transfer.
Apart from the RER trains there are two dedicated airport buses run by Air France, another airport bus called Roissybus run by the Paris public transport company and two local stopping buses that eventually find their way into the centre.
Full Details Of Transfer Options Between Charles De Gaulle Airport And Paris
---
---