Airport Bus Paris Charles De Gaulle CDG Airport
Comparison Between The Various Airport Buses Between CDG Airport and the centre of Paris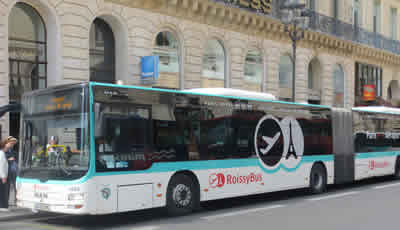 RoissyBus Airport Bus For Charles De Gaulle (CDG)
There is a choice of five routes by airport bus from Charles De Gaulle Airport (CDG) to the centre of Paris.
Three are operated by RATP who run the buses, RER trains and Metro within Paris. A bonus with the RATP options is that a Paris travel pass can include the airport transfer.
The other airport bus options at CDG are run by Air France.
The big downside of using one of the airport buses is potential large delays through traffic congestion.
At peak times during the working week the motorway and orbital road around Paris can be little better than a parking lot. Do leave plenty of contingency time when going out to the airport. The alternative CDG RER train link of course suffers no traffic congestion.
All the airport buses stop at Terminals 1 and 2. Only the RoissyBus stops at Terminal 3.
---
RoissyBus
Arguably the most popular Paris bus transfer option is Roissy Bus, operating to Opera in the very centre of the city.
In Paris the terminal is quite prominent on the corner of of rue Scribe and rue Auber, immediately to the west of the Opera itself. At CDG the bus stops at all passenger terminals.
Buses run from around 06:00 to 23:00 at 15/20 minute intervals.
Scheduled journey time is 60 minutes but can be much much more with road congestion at peak commuting times.
Adult Fare Between CDG Airport & Paris Opera On RoissyBus
---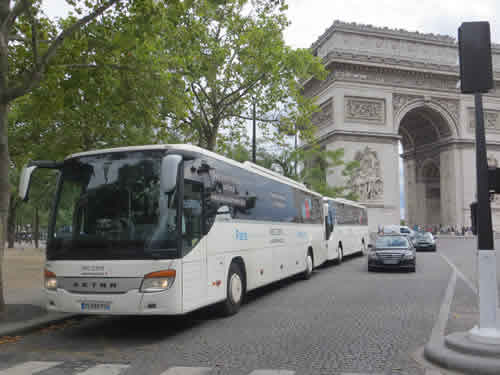 Air France Buses
Air France runs two separate services between CDG airport and the centre of Paris. One goes to the Gare de Lyon railway station, east of the city centre and then goes onto the south side of the city and another major railway station, Montparnasse.
The Other route goes to Porte Maillot before terminating at the Arc De Triomphe at the top of the Champs Elysees, just west of the city centre.
Buses to and from the Champs Elysees, (line 2) run between 06:00 and 22:00 at 20 minute intervals.
Buses on Lne 4 run also between 06:00 and 22:00 but at 30 minute intervals.
Adult Fare Line 2 Between CDG Airport & Paris Porte Maillott / Arc de Triomphe / Etoile
| | |
| --- | --- |
| | Adult Fare: One Way €17.00 |
Adult Fare Line 4 Between CDG Airport & Paris Gare De Lyon/ Gare Montparnasse
| | |
| --- | --- |
| | Adult Fare: One Way €17.50 |
Child Fares: Children 2 to 11 years, one way tickets 50% discount. Under 2 travel free on lap of adult.
Group Tickets: 4 adults traveling get around a 15% discount.
---
Local Paris Buses 350/351
There are a couple of local Paris buses, routes 350/351 that connect CDG airport with the centre of Paris. These are normal Paris buses with stops every few hundred yards in Paris itself. Out by CDG airport itself these buses tend to take a more express routing.
The 351 bus runs about every 15-30 minutes to Nation Metro just to the east of the centre of Paris. The route goes to the past Gallileni Metro where the main long distance coach terminal is sited together with lots of cheap chain hotel options.
The 350 bus runs a similar frequency to the Gare de l'Est station via Gare Du Nord station.
Both buses run from about 06:00 to 20:30/ 22:30 with a journey time scheduled around 80 minutes.
Both buses terminate at the bus station at CDG airport above Terminal 1/3 RER station in front of the Ibis hotel and both pickup from Terminals 1 & 2.
Adult Fare 350/351 Bus
| | |
| --- | --- |
| | Adult Fare: 3 local bus tickets = €6.00 (from bus driver) |
---
Comparison Of Public Transport Fares (One Way) Between CDG & Centre Of Paris
Route

Cost €

350/351 local bus
Nation / Gare L'Est

6.00

RER train
Any Zone 1 station

9.75

Roissy Bus
Opera

11.00

Air France Bus
Pte Maillot / Arc Triomphe

17.00

Air France Bus
Gare Lyon/Montparnasse

17.50

Airport Hotel Shuttle
Any central Paris hotel

18.00

Private Car / Taxi
Per vehicle (1-4 persons)

75.60
---
---