Hotels In Paris & Practical Information For The Visitor
Make an informed choice in getting the best value from your visit to Paris
Cheap Paris Budget Hotel Chain Ibis Budget (ETAP)
Cheap hotels Central Paris ?
The city of Paris is not naturally a cheap area for accommodation. Within the context that cheap in Paris is relative there are hotels available to suit most budgets at all times of the year somewhere in the city centre. Its just knowing where to look.
Formule 1 & Ibis Budget - Cheapest?
Formule 1 and Ibis Budget are relatively recent chains offering ultra no frills low budget hotels around the edge of central Paris close to Metro stations and offer really low rates.
In all probability Formule 1 and Ibis Budget (formerly ETAP) offer the cheapest rooms you will find in Paris. Formule 1 is the cheapest of all nine times out of 10, largely as its rooms are not en suite.
Both Formule 1 and Ibis Budget are in modern, purpose built hotels and come with the reassurance that both brands are owned by the global hotel chain Accor, more famous for their Ibis, Novotel and Sofitel brands.
Timhotel - Parisian Budget Chain
Timhotel are a regional French chain with classic traditional French hotels of a 2 or 3 star grade.
Many are in typically Parisian neighbourhoods where you can go 'native', others are in tourist hotspots with two hotels close to the Louvre, not exactly a district brimming over with budget hotel accommodation.
Most room rates at Timhotel are flexible with payment at checkout and cancellation without penalty if you notify more than one day before your booking.
Budget Hotel Districts
In terms of price, lowest prices tend to be where there is most competition.
In Paris this means the largest railway stations at Gare Du Nord (including its close neighbour at Gare de L'Est), Gare de Lyon, Montparnasse and Saint Lazare. As major transport hubs they also have great metro choices and airport train and bus transfer options.
Montmartre, just to the north west of Gare Du Nord is also a major budget hotel area.
In the Latin Quarter once you get away from the Sorbonne and Pantheon area, a transformation takes place. A glimpse of authentic Paris that is attractive to visitors and accommodation that is relatively easy on the pocket and spread out. If you fancy going 'native' this is a good choice.
Paris Navigo Decouverte Pass
Getting Around Paris - Public Transport
The Paris Metro service is for most visitors and locals the transport mode of choice traveling within the centre of Paris.
A comprehensive local bus service fills in the gaps and a fast. frequent commuter rail network called RER will get you to the airports, Disneyland and Versailles quickly and affordably.
The Metro, RER trains and local buses are highly integrated, you can use the same tickets seamlessly between all there. For the vast majority of visitors to Paris, using public transport is the commonsense solution to getting around.
Unless you are in Paris for just a few hours it is a great investment in time to research fares and the various travel passes available.
It will save you a lot of time and stress if you are confident what ticketing is right for you before you arrive, especially if your French is a bit shaky or non-existent.
Understanding how to master the ticketing system of Paris public transport may also save you a lot of money.
Paris Public Transport Fares & Travel Passes
Practical Guide To Using The Paris Metro
Airport Transfers CDG, Orly & Beauvais
Charles De Gaulle Airport is the busiest of the Paris airports well to the north of the city of Paris itself. There is a bewildering choice of transfer options, if you are on a shoestring there is even a local public bus.
RER Train At Charles De Gaulle
For most people transferring from Charles De Gaulle Airport its a straight choice between the airport RER trains and several CDG airport buses, but the choice also extends to hotel shuttles and taxi services.
Orly Airport to the south of Paris is nowadays the second airport, but number of flights are still significant with the similar transfer choices to CDG.
Beauvais is not exactly the busiest airport, dominated by the Ryanair budget airline. A paying bus shuttle service is organised between Paris-Beauvais Airport and Paris-Porte Maillot not far from the Arc de Triomphe for each flight.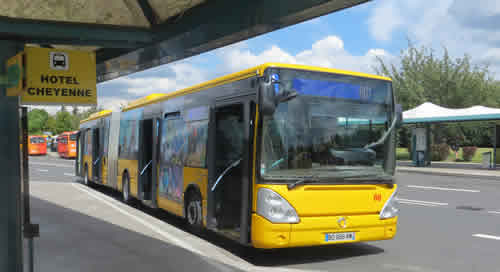 Free Disneyland Resort Hotel Shuttle Bus
Disneyland Hotels & Logistics
Just like the Paris city hotels we give a no nonsense, plain speaking practical guide to hotels in and around Disneyland and transport options getting to Disneyland itself.
We cover in detail the various Disney operated hotels in the immediate vicinity of Disneyland and compare between them.
We also look at non-Disney hotels clustered around a lake about 1km from the Disneyland gates which all share a free shuttle bus service almost identical to the Disney shuttle buses.
For those on a budget we have value for money alternatives at Val D'Europe a town close to Disneyland with large shopping centre and much to do. The hotels here also offer shuttles to the Disney Gates.
We also float the town of Noisy Le Grand as a cheap source of accommodation convenient for Disneyland. Noisy Le Grand is mid-way between the centre of Paris and Disneyland with several trains an hour connecting both in just 20 minutes. By the RER station is a choice of cheap low cost budget chain hotels offering excellent value for money.
---
Copyright © 2002-2015 Travelers Toolkits Ltd All Rights Reserved