Paris RER Trains With Prices & Guide To Using
Everything You Need To Know About Using The Paris RER Train System
Paris RER Train
The RER Paris suburban railway system will be mostly used by visitors for their airport transfer into Paris city centre to and from CDG and Orly airports or for independent excursions to Disneyland and Versailles.
There are five lines, simply numbered A to E. Unlike most city suburban lines there are no city centre terminals, all lines except E, go straight through Paris to a destination on the other side of the city
In Paris city centre the key stations are Chatelet and Gare du Nord. These are vast transport hubs, with metro lines as well as RER lines interchanging.
The Paris RER is run by RATP, (Regie Autonome des Transports Parisiens) who also run the buses and Metro system. As a result train, metro and bus are tightly integrated, sharing ticketing systems.
If you are traveling within central Paris you can use a single ticket which is also valid for Metro and buses. Within central Paris you can think of the RER as just another Metro line
There is a mix of single deck trains (like in the image right) and double deck trains predominantly operating on lines A and C
Trains will commonly run at 15-20 minute intervals and run from about 05:00 to around midnight.
RER Map & Finding Your Way Around
Paris uses a zonal system with six circular zones radiating out from the centre. Zone 1 is where nearly all hotels are and where all the city centre sights are located. The Paris Metro system is largely confined to just zones 1 and 2.
The zones are clearly marked on the RER map, (see link below right).
Destinations that visitors will often go to outside the central zone include:
- Charles de Gaulle Airport CDG - zone 5
- Orly Airport - zone 4
- Eurodisney - zone 5
- Versailles - zone 4
For most lines the first train is about 05:30 and the last well after midnight. Frequencies are very high, a few minutes between each train at most. There is a strict non-smoking policy.
Paris RER Tickets & Fares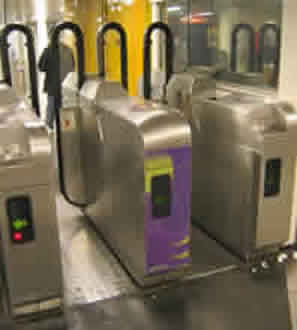 Paris Ticket Barrier
To access the RER system you will need a ticket of one kind or another. Whatever ticket you have, (including travel passes ) you insert the ticket into an automatic barrier which after validating the ticket allows you through.
The first time, just position yourself behind a local and follow what they are doing - it really is simple and identical to many other systems like the London Underground.
You can buy tickets at Metro and RER Railway Station ticket offices which have manned ticket offices. The ticket offices at places like Charles de Gaulle Airport have helpful, competent English speaking attendants well used to overseas travelers not confident in what they need and are for the most part remarkably patient.
You will also find multi-lingual ticket machines like the one pictured left, and machines for topping up the Navigo Cards everywhere.
Purchasing Single Tickets For RER Trains
If you purchase a ticket for a single journey the cost will depend upon which zones your originating and destination stations are located in. You can find this out easily enough by looking at the RER map, (see link above).
If both stations are in zones 1 and 2 then the fare will be the same as the Paris Metro fare. See our Paris Metro page for current fares.
Current fares to and from Orly and CDG airports are stated on the respective dedicated airport sections on this web site.
If you are traveling around Paris like most visitors do its worth studying the various travel passes available below that cover all of the trains and buses in the Paris area.
Day Tickets - Carte Mobilis
A single calendar day card provides unlimited rides on the transport system of the Ile-de-France region: Metro, RER (express regional trains), bus, tramway, funiculaire de Montmartre, Montmartrobus, Noctambus (night bus) within a given fare zone.
Most visitors will only need zones 1&2, broadly coinciding with the extent of the Metro system. If in doubt about zone coverage the zones are marked on the RER map (above).
Carte Mobilis Prices from 1st Jan 2014
Fare Zone
Price
Fare Zone
Price
Zone 1 - 2
6.80
Zone 1 - 4
11.20
Zone 1 - 3
9.05
Zone 1 - 5
16.10
Available at all metro, bus and RER stations.
Mobilis is valid for one day during the hours of 5:30 a.m until 1:00 the next day and until 2:30 on Fridays, Saturdays and eve of public holidays and until 5:30 on the Noctilien.
Youth Weekend Ticket (Under 26, Saturdays & Sundays Only) - Ticket Jeunes Weekend
A day ticket restricted to use on Saturdays, Sundays and national holiday days.
The ticket is available to all under 26. Be ready to be able to prove your age both at times of purchase and by inspection teams that frequent the transport network.
Ticket Jeunes Weekend Prices from 1st Jan 2014 in Euro
Fare Zone
Price
Fare Zone
Price
Zone 1 - 3
3.75
Zone 1 - 5
8.10
Available at all metro, bus and RER stations.
Note this ticket is for one day, not a weekend.
Valid for one day, from 5:30 to 2:30 the next day (until 5:30 on Noctilien)
Paris Visite Card
This is the ticket heavily promoted to tourists and visitors.
The pass doesn't really stand up to financial scrutiny too well though its hard to compare like with like as the Visite Card as well as being a travel pass also provides discounts to tourist attractions.
Lots of people like the convenience of buying them before they travel from an agent. Though convenient, the markup against the price bought in Paris can be eye popping so do look around.
Its worth checking out whether the premium paid for the 'special offers' is worthwhile to you. Don't expect free tickets for the Eiffel Tower or The Louvre, most are discounts on department stores and second tier attractions many people would not consider visiting without the discount.
Paris Visite Card Prices From January 1st 2014 in Euro - purchased in Paris
Fare Zone
1 Day
Children* / Adults
2 Day
Children* / Adults
3 Days
Children* / Adults
5 Days
Children* / Adults
1 - 3
5.40 / 10.85
8.80 / 17.65
12.05 / 24.10
17.35 / 34.70
1 - 5
11.40 / 22.85
17.35 / 34.70
24.30 / 48.65
29.75 / 59.50
* children between 4 and 11 years old.
Hours of validity of each day from 5:30 a.m to 5:30 the next morning
Weekly / Monthly Tickets - Navigo Decouverte Pass
This is an electronic smart card similar to schemes introduced recently worldwide into mass transit systems. The smart card stores electronically the fare product you choose. Its reusable so if you return to Paris you can load up fares onto the same card. The first time you buy, you have to pay a €5 deposit for the card itself and then you buy a week or months worth of transportation that is loaded onto the card.
Most visitors will go for the weekly fare. Key point about this product is that the week runs Monday to Sunday. If you purchase a weekly ticket on a Friday it runs out on Sunday, not the Friday after.
You also need to bring along a passport sized portrait photo, the size of 25 x 30mm (0.98" x 1.18"). There are plenty of photo machines in the stations that produce such a photo if you need it.
A convenient place to purchase these cards for many visitors is the RER train ticket offices at Charles De Gaulle Airport or the major train stations in Paris like Gare Du Nord.
Navigo Decouverte Pass From January 1st 2014 in Euro
Fare Zone
Week
Month
Fare Zone
Week
Month
Zone 1 - 2
20.40
67.10
Zone 1 - 4
32.00
105.40
Zone 1 - 3
26.40
86.60
Zone 1 - 5
34.40
113.20
Weekly tickets available from the Friday preceding the Monday starting the week of validity until Thursday of the week included in the 7 days of validity
---
Save on Sightseeing in Paris with the Paris ComboPass®
Benefits of the Paris ComboPass® include
:
FREE unlimited use of all the public transport services inside Paris and the inner suburbs (within inner 3 zones, not valid for airports transfers)

FREE access to more than 60 museums and monuments including Louvre, Orsay, Versailles Castle, Notre-Dame Towers, Sainte-Chapelle... for 2, 4 or 6 days

FREE Seine River cruise tour

Special discounts and offers for additional Paris attractions

Free Paris street/metro/bus map

Delivery to your hotel or home

Optional add-on products - Versailles and Disneyland train tickets, Opentour hop on/off bus.
---