L'OpenTour Paris Hop On Hop Off Sightseeing Bus
Most Comprehensive & Frequent Hop On Hop Off Sightseeing Bus In Paris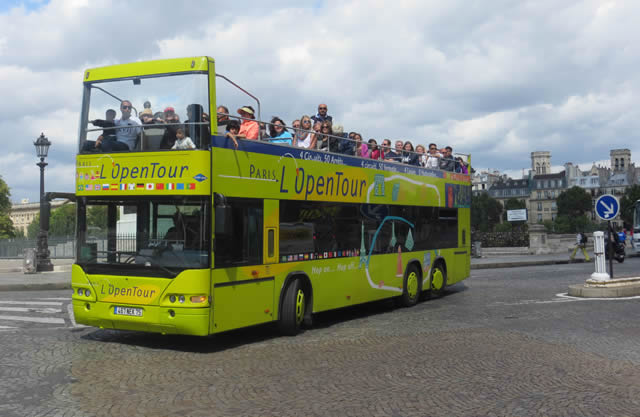 L'OpenTour Paris Hop On Hop Off Sightseeing Bus
Open top hop on hop off sightseeing buses are a common sight worldwide in all major tourist cities. Paris is no exception. In Paris the most common service you will see is the yellow buses of L'OpenTour.
The major rival to L'OpenTour is the Les Cars Rouges hop on hop off bus operation. Les Cars Rouges is cheaper but only has one route with 9 stops at the major Paris attractions.
L'OpenTour is much more comprehensive with 4 routes included in the same ticket. As well as the core city centre route, separate routes cover the attractions outside the centre like Montmartre, Bastille and Catacoombes as well as the major rail stations.
L'OpenTour Route Overview
The four tour routes are interconnected so you can easily hop between them to discover the best of Paris.
Your ticket is valid on ALL routes.
Paris Grand Tour
The entire route takes 2 hours. Buses departs every 10 to 30 minutes from each stop. Highlights include Madeleine, Opera, Louvre Museum, Notre-Dame Cathedral, Saint-Germain-des-Pres, Orsay Museum, Concorde, Champs-Elysees, Arc de Triomphe, Trocadero, Eiffel Tower and Invalides.
Bastille-Bercy
The entire route takes 60 minutes. Buses departs every 30 minutes from each stop. Highlights include Notre-Dame Cathedral, Saint-Paul, Bastille, Gare de Lyon, Gare d'Austerlitz and Parc de Bercy.
Montmartre - Grands Boulevards
The entire route takes 60 minutes. Buses departs every 15 to 20 minutes from each stop. Highlights include Funiculaire de Montmartre, Gare du Nord, Gare de l'Est and Grands Boulevards.
Montparnasse - Saint-Germain
The entire route takes 60 minutes. Buses departs every 15 to 20 minutes from each stop. Highlights include Jardin du Luxembourg, Observatoire, Catacombes, Invalides and Saint-Germain-des-Pres.
---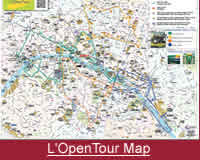 L'OpenTour Buses, Timetables & Guiding
Buses are modern purpose built double deck buses like that pictured at top of the page. You can purchase drinks onboard the bus.
Luggage is unable to be stored. Collapsible wheelchairs with removable wheels can be accommodated providing the passenger is accompanied by someone who can assist them board and disembark.
Audio commentary with individual earphones in: German, English, Chinese, Mandarin, Spanish, French, Italian, Japanese, Russian, Portuguese or Czech.
Broadly all routes start operating about 09:30 and start running down around 18:00 and an hour or two earlier in the low season
On the main city centre route frequencies are every 10 minutes in the high season, other routes run every 15-25 minutes. In the low season, buses run every 30 minutes.
Low season is from from November to end of March
L'OpenTour Prices & Ticketing
A single ticket is valid for one or two calendar days from the time of first use.
The ticket doesn't include any admissions to attractions
You can switch between routes and ride the buses as much or as little as you require for the days your ticket is valid.
Paris L'OpenTour Hop-on Hop-off Bus:
1 Day Ticket €32
2 Day Ticket €36
3 Day Ticket €40
---
L'OpenTour Hop On Hop Off Bus & Batobus Hop On Hop Off Boat Combination Ticket
Combine Paris L'OpenTour hop on/off bus pass with Batobus river boat shuttle service.
Available for 2 or 3 days, you have access to more than 58 stops using both means of transportation and enjoy the exceptional views of the monuments of Paris and the Seine river from the rear terraces of the boats and the top decks of the buses.
---
Save on Sightseeing in Paris with the Paris ComboPass®
Benefits of the Paris ComboPass® include
:
FREE unlimited use of all the public transport services inside Paris and the inner suburbs (within inner 3 zones, not valid for airports transfers)

FREE access to more than 60 museums and monuments including Louvre, Orsay, Versailles Castle, Notre-Dame Towers, Sainte-Chapelle... for 2, 4 or 6 days

FREE Seine River cruise tour

Special discounts and offers for additional Paris attractions

Free Paris street/metro/bus map

Delivery to your hotel or home

Optional add-on products - Versailles and Disneyland train tickets, OpenTour hop on/off bus.