Paris Metro Prices, Maps & Travel Passes
Everything You Need To Know About Using The Paris Metro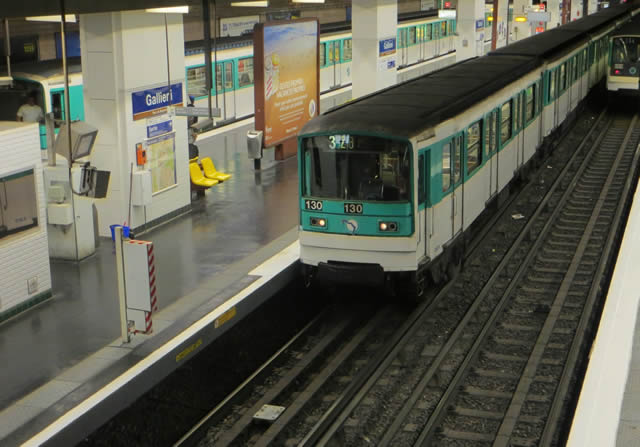 Paris Metro Train
The Paris Metro service is for most visitors and locals the transport mode of choice traveling within the centre of Paris.
There is a spiders web of lines, so in the centre of Paris you are always only a few minutes walk from a Metro station.
The Paris Metro is run by RATP, (Regie Autonome des Transports Parisiens) who also run the buses and RER suburban train system. As a result the transport network is highly integrated, tickets are interchangeable between buses, metro and trains.
The RER is a suburban rail system whose lines do not terminate in a central station in Paris but go right through to a destination on the other side of Paris. In the centre of Paris the RER runs underground stopping only at major interchange stations. The RER can therefore be very useful for some cross-city routes and are certainly speedier as stations are much further apart than the Metro.
The bus network really only plays a supporting role to the Paris Metro in the centre of Paris. You will find yourself using the Metro for the majority of your journeys.
Paris Metro Maps & Finding Your Way Around
Very good free bus/metro maps are free and most reliably available at the tourist offices scattered around the city.
On one side is a very good, detailed map of Paris with the Metro and RER lines marked together with the numbers of the buses that interchange at Metro and RER stations.
On the other side is a detailed bus map.
Paris public transport is divided up into zones that radiate out from the centre. For perhaps the majority of visitors they will not go outside the central zone (zone 1). Zone 1 is where nearly all hotels are and where all the city centre sights are located. The Paris Metro system is pretty much restricted to the inner 2 zones for which there is a flat fare structure.
If you interchange from the Metro to the RER, perhaps to Disneyland, CDG Airport or Versailles the RER train may well go out to zones beyond that covered by a Metro ticket.
For most lines the first train is about 05:30 and the last well after midnight. Frequencies are very high, a few minutes between each train at most.
There is a strict non-smoking policy.
Paris Metro Tickets & Fares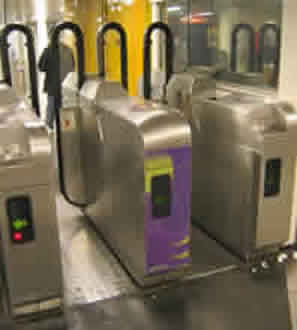 Paris Metro Ticket Barrier
To access the Metro system you will need a ticket of one kind or another. Whatever ticket you have, (including travel passes ) you insert the ticket into an automatic barrier which after validating the ticket allows you through.
The first time, just position yourself behind a local and follow what they are doing - it really is simple and identical to many other systems like the London Underground.
In the Metro you can use 1 ticket and make any transfers between lines with only that 1 ticket so long as you're underground and in the Metro system itself. Keep it with you until you exit because some Metro or RER stations require it for you to leave. So long as you stay underground a single Metro ticket also lets you use and transfer between the RER and Metro stations that are inside the 2 zones of Paris itself.
A carnet is a booklet of 10 single tickets.
You can buy tickets at ticket offices or automatic ticket machines at metro, bus, tramway and RER stations.
Paris Single Ticket Fares (€)- FRom Jan 2015
1 Ticket Metro, Bus or RER within Paris
1.80
Carnet of 10 tickets, as above for Adult
14.10
Carnet of 10 tickets, Child (4 to 10 years old)
7.05
Day Tickets - Carte Mobilis
A single calendar day card provides unlimited rides on the transport system of the Ile-de-France region: Metro, RER (express regional trains), bus, tramway, funiculaire de Montmartre, Montmartrobus, Noctambus (night bus) within a given fare zone.
Most visitors will only need zones 1&2, broadly coinciding with the extent of the Metro system. If in doubt about zone coverage the zones are marked on the RER map (above).
Carte Mobilis Prices from 1st Jan 2014
Fare Zone
Price
Fare Zone
Price
Zone 1 - 2
6.80
Zone 1 - 4
11.20
Zone 1 - 3
9.05
Zone 1 - 5
16.10
Available at all metro, bus and RER stations.
Mobilis is valid for one day during the hours of 5:30 a.m until 1:00 the next day and until 2:30 on Fridays, Saturdays and eve of public holidays and until 5:30 on the Noctilien.
Youth Weekend Ticket (Under 26, Saturdays & Sundays Only) - Ticket Jeunes Weekend
A day ticket restricted to use on Saturdays, Sundays and national holiday days.
The ticket is available to all under 26. Be ready to be able to prove your age both at times of purchase and by inspection teams that frequent the transport network.
Ticket Jeunes Weekend Prices from 1st Jan 2014 in Euro
Fare Zone
Price
Fare Zone
Price
Zone 1 - 3
3.75
Zone 1 - 5
8.10
Available at all metro, bus and RER stations.
Note this ticket is for one day, not a weekend.
Valid for one day, from 5:30 to 2:30 the next day (until 5:30 on Noctilien)
Paris Visite Card
This is the ticket heavily promoted to tourists and visitors.
The pass doesn't really stand up to financial scrutiny too well though its hard to compare like with like as the Visite Card as well as being a travel pass also provides discounts to tourist attractions.
Lots of people like the convenience of buying them before they travel from an agent. Though convenient, the markup against the price bought in Paris can be eye popping so do look around.
Its worth checking out whether the premium paid for the 'special offers' is worthwhile to you. Don't expect free tickets for the Eiffel Tower or The Louvre, most are discounts on department stores and second tier attractions many people would not consider visiting without the discount.
Paris Visite Card Prices From January 1st 2014 in Euro - purchased in Paris
Fare Zone
1 Day
Children* / Adults
2 Day
Children* / Adults
3 Days
Children* / Adults
5 Days
Children* / Adults
1 - 3
5.40 / 10.85
8.80 / 17.65
12.05 / 24.10
17.35 / 34.70
1 - 5
11.40 / 22.85
17.35 / 34.70
24.30 / 48.65
29.75 / 59.50
* children between 4 and 11 years old.
Hours of validity of each day from 5:30 a.m to 5:30 the next morning
Weekly / Monthly Tickets - Navigo Decouverte Pass
This is an electronic smart card similar to schemes introduced recently worldwide into mass transit systems. The smart card stores electronically the fare product you choose. Its reusable so if you return to Paris you can load up fares onto the same card. The first time you buy, you have to pay a €5 deposit for the card itself and then you buy a week or months worth of transportation that is loaded onto the card.
Most visitors will go for the weekly fare. Key point about this product is that the week runs Monday to Sunday. If you purchase a weekly ticket on a Friday it runs out on Sunday, not the Friday after.
You also need to bring along a passport sized portrait photo, the size of 25 x 30mm (0.98" x 1.18"). There are plenty of photo machines in the stations that produce such a photo if you need it.
A convenient place to purchase these cards for many visitors is the RER train ticket offices at Charles De Gaulle Airport or the major train stations in Paris like Gare Du Nord.
Navigo Decouverte Pass From January 1st 2014 in Euro
Fare Zone
Week
Month
Fare Zone
Week
Month
Zone 1 - 2
20.40
67.10
Zone 1 - 4
32.00
105.40
Zone 1 - 3
26.40
86.60
Zone 1 - 5
34.40
113.20
Weekly tickets available from the Friday preceding the Monday starting the week of validity until Thursday of the week included in the 7 days of validity
---
Save on Sightseeing in Paris with the Paris ComboPass®
Benefits of the Paris ComboPass® include
:
FREE unlimited use of all the public transport services inside Paris and the inner suburbs (within inner 3 zones, not valid for airports transfers)

FREE access to more than 60 museums and monuments including Louvre, Orsay, Versailles Castle, Notre-Dame Towers, Sainte-Chapelle... for 2, 4 or 6 days

FREE Seine River cruise tour

Special discounts and offers for additional Paris attractions

Free Paris street/metro/bus map

Delivery to your hotel or home

Optional add-on products - Versailles and Disneyland train tickets, Opentour hop on/off bus.
---