Paris Charles De Gaulle CDG - Orly Airport Transfers
Comparison Between Bus, Train & Taxi Options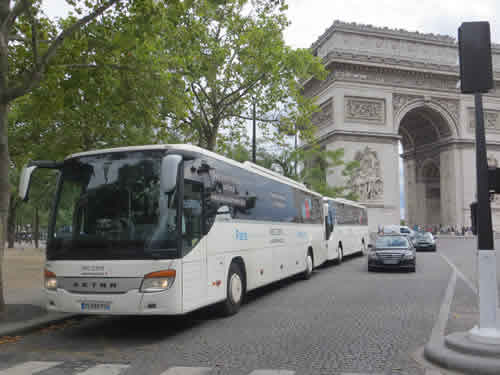 Air France CDG - Orly Airport Bus
The two main airports of Paris, Charles De Gaulle and Orly are on opposite sides of the city. Charles De Gaulle Airport (CDG) is to the north, Orly the south, nectitating a transfer through or around Paris itself.
The three main options to make this journey are Air France buses that run non-stop between the two airports, Line B of the RER Paris trains that go through the centre of Paris and private vehicle (Taxi)
We now detail each option:
Air France Bus (Line 3)
Air France runs a dedicated airport to airport service running non-stop around the periphery of Paris.
The service runs 7 days a week leaving both airports every 30 minutes. First services depart between 6 a.m. and 7 a.m. with last departure at 10:30 p.m.
At peak commute hours there can be severe road congestion delays on the route.
Adult Fare Line 3 Between CDG Airport & Paris Orly Airport
| | |
| --- | --- |
| | Adult Fare: One Way €21.00 |
Child Fares: Children 2 to 11 years, one way tickets 50% discount. Under 2 travel free on lap of adult.
Group Tickets: 4 adults traveling get around a 15% discount.
---
Paris RER Line B & OrlyVal Shuttle Train
The RER train service from CDG Airport goes through the centre of Paris and out the other side and continues to within a few miles of Orly Airport.
At Antony Station a dedicated small shuttle train runs a dedicated service to Orly.
Both services service all terminals in each airport.
If using this service be careful on Line B of the RER where there are several branches to the line. Make sure the train you are boarding goes to CDG or Antony.
Scheduled journey time are more reliable than the Air France bus as there is no road congestion to contend with. You should do the journey comfortably in about an hour.
The service runs between 6 a.m. and 11 p.m.
Adult Fare Between CDG Airport & Paris Orly On RER Line B & Orlyval
---
Taxi / Private Car
The ultimate in convenience for transferring between Paris Charles De Gaulle airport and Orly is of course a private vehicle with driver, door to door with meet and greet at the airport.
We offer a flat fare system whereby we can publish a standard tariff between CDG airport and Orly.
We try and make the whole operation as simple and as transparent as possible.
- Personal Meet & Greet.
- Flights are monitored, no worries about flight delays.
- No hidden prices, payment by credit card with no fees.
- Choice of vehicle to suit party size and luggage.
- Instant reservation and confirmation. 24 hour help line.
- Free baby seats.
Paris Charles De Gaulle - Orly Airport Private Car Service
1-4 Persons - €117.00
5-6 Persons - €162.40
7-8 Persons - €174.00


CDG Departure


Orly Departure
---
---
Private Transfer Quotation / Enquiry Form
---
---