Hotels Near The Louvre Museum Paris
Hostels, Simple 2 stars, luxury hotels and spas, suites and apartments all within 5 minutes walk of Louvre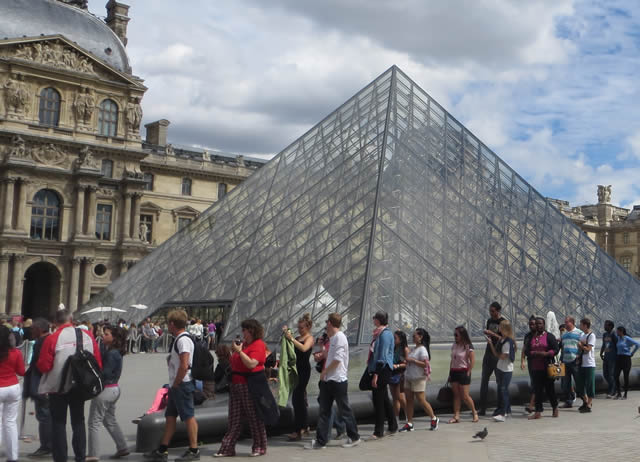 The Louvre Pyramid
Hotels near to the Louvre Museum Paris are surprisingly varied in choice. Within five minutes walk you can find simple budget accommodation, chain hotels, luxury hotels and suites, even a choice of apartments.
As no doubt you have suspected, as one of the places first time visitors look for their accommodation you do pay a large price premium to stay around the Louvre district over alternatives just a 10-15 minute bus or metro ride away.
Relative position Of the Louvre
Arrondissement District 1 Of Paris
As far as leisure visitors are concerned the Louvre is just about in the centre of everything they want to see. Notre Dame is 5 minutes walk east, the left bank you can walk across to, and going west you soon come to the Champs Elysees.
The main department stores are also only 10 minutes walk north of the Louvre.
The only major icon of Paris you cannot really walk to is the Eiffel Tower, but here again there is a big choice of options on your doorstep including a tourist river bus and hop-on, hop off sightseeing buses in addition public transport.
The Chatelet Les Halles complex also within the local district has direct train transport to both Charles de Gaulle and Orly airports, just about the fastest and most reliable method to make your hotel transfer.
From Chatelet also you can pickup the direct RER trains to Paris Disneyland and you can walk across the river from the Louvre to St Michel RER station where there are frequent trains to Versailles, 5 minutes walk from the Palace.
---
Hotel de Rouen - Double Rooms From €70


Just a 3-minute walk from the Louvre museum. This hotel offers hostel-style accommodation with free Wi-Fi internet access.

All of the rooms have TV and some of the rooms have private en suite shower and toilet. Breakfast is served every morning from 07:30 to 10:00.
Rooms: Double Rooms
Metro: Palais Royal 200m (Line 1,7)
Hotel Prince Albert Louvre - 2* Hotel - Double Rooms From €109



A 5-minute walk from Le Louvre and the Jardin des Tuileries.

Guest rooms are air-conditioned accommodation with free Wi-Fi. Rooms have a traditional decor and a private bathroom. They are equipped with TV with satellite channels. 24-hour reception.
Rooms: Single, Double Rooms
Metro: Pyramides 200m (Lines 7,14)
Timhotel Palais Royal - 3* Hotel - Double Rooms From €109


This Timhotel is located in central Paris, next to the Louvre museum and Palais Royale. The hotel has air-conditioned rooms with satellite TV and free Wi-Fi.
24 hour reception with daily newspapers. All rooms have lift access. Guests can have tea and coffee in the comfort of their room and benefit from the hotel's buffet breakfast.
Rooms: Single, Double/Twin & Triple Rooms
Metro: Palais Royal 500m (Line 1,7)
Timhotel Le Louvre - 3* Hotel - Double Rooms From €119



One of the few simple hotels near the famous Louvre museum and Tuileries Gardens.
Rooms are fully equipped with free Wi-Fi access, flat-screen TV and air conditioning. A buffet breakfast is served every morning. Complimentary newspapers are available at the 24-hour reception.
Rooms: Single, Double/Twin Rooms
Metro: Palais Royal 200m (Line 1,7)
Citadines Les Halles - 4* - Studios & Apartments From €154



Located in Paris's 1st district near Forum des Halles. It offers air-conditioned apartments, a 24-hour reception desk and free internet access.
Apartments are equipped with a telephone, TV, and private bathroom.
Each apartment has an equipped kitchenette and is accessible by lift.
Free Wi-Fi .
Rooms: Studios & Apartments For 1 to 4 people
Metro: Chatelet-Les Halles 300m (Line 1,4,7,11,14) RER Lines A,B,D
Hotel Louvre Bons Enfants - 3* Hotel - Double Rooms From €160


Located opposite Le Musee du Louvre and the Jardin des Tuileries.

Air-conditioned accommodation with free Wi-Fi access, private bathroom, satellite TV and a radio. All rooms are equipped with a safety deposit box.
24-hour reception, a fitness centre and a car hire service.
Rooms: Single, Double/Twin Rooms
Metro: Palais Royal 200m (Line 1,7)
Novotel Les Halles - 4* Hotel - Double Rooms From €169



just a 10-minute walk from the Louvre Museum & Notre Dame Cathedral. Chatelet Les Halles Metro and train station is just 250 metres away.

Guest rooms are spacious, equipped with private bathrooms, TV with satellite channels, high speed internet connection and air conditioning. Free Wi-Fi.
Rooms: Double/Twin, Triple & Quad Rooms
Metro: Chatelet Les Halles 250m (Line 1,4,7) RER Lines A,B,D
Grand Hotel Dechampaigne - 3* Hotel - Double Rooms From €170



Just a 5-minute walk from Le Louvre and the Notre Dame.

Each air-conditioned room with Louis XIII-period decor and furniture is equipped with free Wi-Fi access, a private bathroom with a bathtub and satellite TV. Breakfast is served in the rooms each morning.
Rooms: Single, Double/Twin & Triple Rooms
Metro: Chatelet Les Halles 150m (Line 1,4,7) RER Lines A,B,D)
Grand Hotel Du Palais Royal - 3* Hotel - Double Rooms From €180


Located 500 metres from the Louvre museum and the Jardins des Tuilleries.

Offers soundproofed rooms equipped with air conditioning, Free Wi-Fi access and satellite TV. Each bathroom has Roger & Gallet products. Daily buffet breakfast which can be taken in the guest room upon request.
Rooms: Single, Double/Twin Rooms
Metro: Palais Royal 150m (Line 1,7)
Saint James & Albany Hotel Spa - 4* Hotel - Doubles From €180


Located in the centre of Paris, opposite the Jardin des Tuileries and Le Louvre. It offers free access to the spa centre with a hammam and an indoor pool.

Each room and suite at the Saint-James & Albany Hotel-Spa is soundproofed and equipped with air conditioning, free internet access and satellite TV.
Rooms: Double/Twin, Triple & Quad Rooms
Metro: Tuileries 100m (Line 1)
Citadines Louvre - 3* - Studios & Apartments From €220


Located in Paris's 1st district near the Louvre Museum. It offers air-conditioned apartments, a 24-hour reception desk and free internet access.

The apartments are equipped with a telephone TV and private bathroom. Each apartment has an equipped kitchenette and is accessible by lift.
Rooms: Studios & Apartments For 1 to 4 people
Metro: Palais Royal - Musee du Louvre 200m (Line 1,7)
Best Western Premier Louvre Saint-Honore - 4* - Dbls From €230


Located on a peaceful street between the Opera Garnier and the Louvre, only 500 metres from the Galeries Lafayette department store.

A complimentary cold buffet breakfast is served daily in the breakfast room or in your room with no additional charge. Free Wi-Fi
Rooms: Double Rooms
Metro: Louvre Rivoli 100m (Line 1)
---