Hotels Near Gare Du Nord Railway Station Paris
Budget and chain hotels opposite and within a few minutes walk of Gare Du Nord Station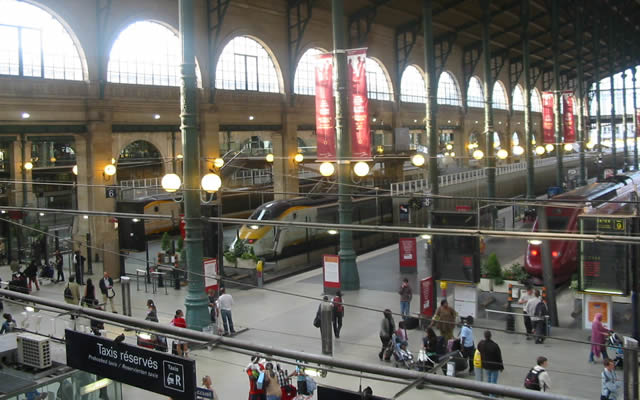 Gare Du Nord Station Paris
With Eurostar Trains In Background
Hotels near Gare Du Nord station have a definite bias towards the budget end of the hotel market. Choices are largely made up of cheap, simple independent hotels and budget / mid-range global chains like Ibis, Mercure, Holiday Inn and Best Western.
Relative position Of Gare Du Nord
In Arrondissement District 10 Of Paris
Gare Du Nord is the Paris terminus of the Eurostar and Thalys express trains to London, Brussels and Amsterdam. Around 10 minutes walk, signposted for pedestrians is the Gare de l'Est station.
Gare de l'Est serves high speed trains such as Thalys, TGV, and ICE to eastern cities such as Strasbourg, Stuttgart, Luxembourg, and Cologne.
Very frequent fast RER trains connect Gare Du Nord to both main Paris airports, Charles de Gaulle and Orly. Gare Du Nord has a major bus station above the railway platforms with local services to all the major sights and the L'Opentour Paris hop on, hop off sightseeing bus also stops at Gare Du Nord.
For those keeping an eye on their wallet and arriving by train or plane, Gare Du Nord is thus a serious place to consider as a base in Paris that won't break the bank.
In the immediate vicinity of both stations there is a lively choice of restaurants and food options. All the outlets are very familiar with lost looking foreigners coming to grips with the unfamiliar. If you don't want to go native there is a good chain steak and chicken restaurant facing the Gare Du Nord station front entrance with for Paris reasonably priced meals.
---
Ibis Gare Du Nord Chateau Landon - Double Rooms From €65


Just to the east of the Gare du Nord within easy walking off both Gare du Nord and Gare De L Est.

Air conditioned rooms with free WiFi Internet.
Bistrot restaurant, bar, 24hr snacks and private undercover pay parking.
Rooms: Double & Triple Rooms
Metro: Gare Du Nord 300m (Line 4,5,7) & RER Line B,D
Amiot Hotel - 2* Hotel - Doubles From €74



Situated just 5 minutes from Gare du Nord mainline station. It offers spacious accommodation and free Wi-Fi access.

The reception is open 24 hours a day and Hotel Amiot also offers a free luggage service. A daily breakfast service is also available.
Rooms: Single, Double & Triple Rooms
Metro: Gare Du Nord 800m, Gare de l'Est 100m (Line 4,5) RER Lines B,D
Ibis Gare Du Nord La Fayette - Double Rooms From €75


Just to the west of the Gare du Nord on the main road into the city centre. 70 air conditioned rooms with free WiFi access. Wealth of restaurants around the station and a major public transport hub.

Bar, 24 hour snack service and garden. Safe deposit box at reception.
Rooms: Double Rooms
Metro: Gare Du Nord 300m (Line 4,5,7) & RER Line B,D
Smart Place Paris - Doubles From €79


Located just 100 metres from Gare du Nord station in central Paris.

All of the soundproofed rooms feature a private bathroom and a TV with international channels. Each is accessible via a lift.
The Gare de L'Est Train Station is just a 10-minute walk away.
Rooms: Single, Double/Twin & Triple Rooms
Metro: Gare Du Nord 100m (Line 4,5) RER Lines B,D
Campanile Gare Du Nord - 3* Hotel - Double Rooms From €79


Just 800 metres from the Gare du Nord SNCF and Eurostar Train Station and just a few metres from the Louis-Blanc Metro Station.

Guest rooms come with TVs and private bathrooms. A courtesy tray is provided, which includes tea and coffee making facilities and biscuits. Free Wi-Fi.
Rooms: Double/Twin Rooms
Metro: Gare Du Nord 800m (Line 4,5) RER Lines B,D
Avalon Hotel - 3* Hotel - Doubles From €80



Situated just 5 minutes from Gare du Nord mainline station. It offers spacious accommodation and free Wi-Fi access.

The reception is open 24 hours a day and Hotel Amiot also offers a free luggage service. A daily breakfast service is also available.
Rooms: Single, Double/Twin, Triple & Quad Rooms
Metro: Gare Du Nord 350m (Line 4,5) RER Lines B,D
All Styles Gare De L'Est TGV - 3* Hotel - Doubles From €93


Located in the centre of Paris, opposite the Gare de L'Est railway station and five minutes from the Gare du Nord.

32 fully air conditioned non-smoking rooms with modern amenities.
Breakfast included in room rate. Free internet.
Rooms: Single, Double/Twin Rooms
Metro: Gare De l'Est 50m (Line 4,5,7)
Libertel Gare Du Nord Suede - 3* Hotel - Double Rooms From €105



Located within 350 metres of Gare du Nord and Gare de l'Est stations.

Guestrooms are air-conditioned and equipped with a modern private bathroom, cable on a flat-screen TV and tea and coffee making plus free Wi-Fi access. 24-hour front desk, laundry services and an elevator to all rooms.
Rooms: Single, Double & Triple Rooms
Metro: Gare Du Nord & Gare de l'Est 350m (Line 4,5) RER Lines B,D
Best Western Premier Albert 1er - 3* Hotel - Doubles From €105


Located in central Paris just 100 metres from Gare du Nord. It is close to Montmartre and offers free Wi-Fi.

Rooms are comfortable and equipped with air conditioning, satellite TV, work desk and en suite facilities.
Rooms: Single, Double Rooms
Metro: Gare Du Nord 100m (Line 4,5) RER Lines B,D
Ibis Gare de L'Est - Double Rooms From €109


Pleasant neighbourhood to stay with plenty of bars and restaurants plus Gare del L'Est and its transport links on your doorstep. Gare Du Nord with direct access to airports by train is 5/10 minutes walk.

112 air-conditioned rooms with free Wifi Internet access,
Rooms: Double Rooms
Metro: Gare de l'Est 100m (Line 4,5,7)
Holiday Inn Gare de L'Est - 3* Hotel - Double Rooms From €114


Located opposite Gare de l'Est train station and a 5-minute walk from Gare du Nord. It offers soundproofed accommodation with en suite facilities and air conditioning.
A breakfast buffet is served each morning. There is also a bar and a 24-hour reception with a currency exchange service.
Rooms: Double/Twin & Triple Rooms
Metro: Gare de l'Est 50m (Line 4,5,7)
Mercure Paris Terminus Nord - 3* Hotel - Double Rooms From €140



Situated right next to the Gare du Nord Train and Metro Station in central Paris.

Guest rooms are all air conditioned. Each is equipped with satellite TV channels and a private bathroom with both shower and bath.
Currency exchange, bar and a 24-hour reception
Rooms: Single, Double/Twin Rooms
Metro: Gare Du Nord 100m (Line 4,5) RER Line B,D
---